У вольера должны быть прочный каркас, надёжные стены и пол.
     Каркас лучше сделать из проф трубы, скажем 40 на 40 и стенка двойка. Можно из 50го уголка, но я ни разу не видел ровного уголка. Наш уголок, неважно какого завода, всегда дугой. А значит, ровных стен не будет.
     Дерево. Конечно, хочется лиственницу, хотя она и стоит в три - четыре раза дороже елки, зато прослужит долго. Но! Условия эксплуатации деревянных панелей вольера довольно жёсткие. Клыки, когти и, прошу прощения, продукты жизнедеятельности. Доски из любой породы теряют товарный вид года за четыре – пять. Так может лучше через пять лет заменить старую ёлку на новую, чем закрашивать обшарпанную лиственницу.
     Лучший погонаж для стен это шпунтовка, из неё получается плотный щит без щелей. Плохо только, что шпунтовку с двусторонней строжкой не найти. У вагонки, блок-хауса, имитации бруса и половой доски чистовая обработка только с одной стороны, а с противоположной грубый спил и продольный воздушный паз.
Но нет худа без добра – можно обшить стены с обеих сторон каркаса. Конечно это вдвое дороже, но смотреться будет массивно и солидно.
     Пол должен отвечать двум основным требованиям – сухой и прочный. Чтобы в вольере было сухо, пол нужно делать либо из палубной доски с небольшими зазорами между досками для стока воды, либо из обычной половой доски, но тогда нужно организовать небольшой (сантехнический) уклон также для стока воды. Из практики - пол из половой доски предпочтительней. Во-первых, на полу со щелями не слишком комфортно, особенно поздней осенью или сырой зимой. Во-вторых всё за что можно зацепиться когтем или клыком однажды будет оторвано и сгрызено.
     В этом плане простая половая доска мне представляется более выигрышным вариантом.
     Полу необходимо прочное основание. И обязательно поднять пол над грунтом хотя бы сантиметров на десять. В противном случае вы построите жильё не только для собаки, но и для мышей и паразитов. Если вам случится найти старую доску лежащую на земле – поднимите её. Тоже самое будет под вольером, если пол положить на грунт. Сыро и море всякой живности.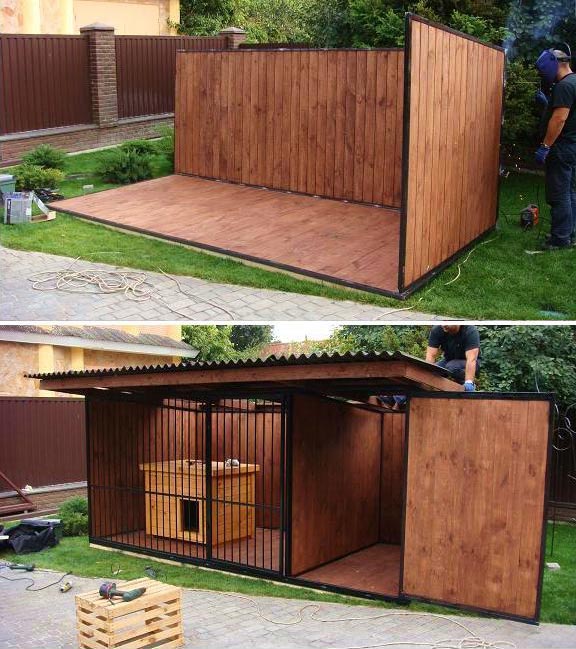 Для крепления досок нужно использовать только саморезы и ершенные или винтовые гвозди. Их труднее вырвать.
     Решётка. Зачастую для постройки вольера используют готовые сетки: рабица, кладочную, дорожную – этого делать нельзя! Собаке в вольере заняться нечем, а свобода вот она, за решёткой.
     Рабица отлично растягивается, а если приложить побольше сил и настойчивости то рвётся. И как правило на изгибе. Как результат – острые крючковатые капканы вместо надёжной стены. Попутно имеем сломанные клыки, потерянные в неравной борьбе с сеткой.
     Кладочная, дорожная сетки не лучше. Их изготавливают методом контактной точечной сварки в автоматическом или полуавтоматическом режиме. До четырехсот сварных соединений на квадратный метр при ячейке 50 х 50 миллиметров. Некачественная сварка – обычное дело. В таких местах зачастую образуется острый как бритва наплыв. Важно понимать, эти сетки предназначены для заливки в бетон или под штукатурку. Поэтому они так и называются - кладочная и дорожная, а не вольерные. Они не предназначены для изготовления клеток.
     Есть ещё так называемые системы ограждений из сварной сетки. Это конечно лучше. Качество сварки выше, проволока до пяти, иногда шести миллиметров, покрытие полимерное или оцинковка. Есть даже сетки с рёбрами жёсткости. Но всё же эти ограждения для (или от) людей. Для вольера они хлипковаты.
     Поэтому решётку лучше сварить самому. Труба или пруток, квадратный или круглый- не так важно. Важно, что это будет надёжно и безопасно. Мы делаем решётки из квадратного прутка 10 миллиметров. Объясняется это просто. Тонкий, вертикально вваренный пруток «выпадает» из поля зрения, а значит, не мешает смотреть сквозь решётку. А квадратный, потому что жестче круглого, да и ровнее.
     Расстояние в свету (между прутками) пятьдесят – восемьдесят миллиметров. Чем крупнее собака, тем больше расстояние.
     Решётку можно украсить ковкой. Но без фанатизма! Кованые элементы представляют вполне реальную опасность. Закрученные и сходящиеся на нет детали это потенциальные капканы для передних лап собаки. Поэтому всё украшательство лучше поднять на уровень лица или выше.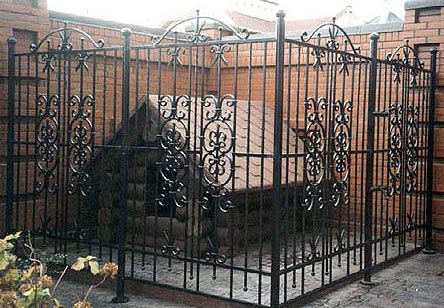 Вольер должен быть закрыт полностью. От пола до крыши. Не оставляйте дыру под потолком. Так конечно проще и дешевле, но собаки очень изобретательны. Будка в качестве трамплина и здравствуй свобода. И хорошо если всё закончится просто вылазкой на ваш участок. А ведь может сбежать совсем, травмироваться при падении или на кого-то напасть. Например, на ваших строителей.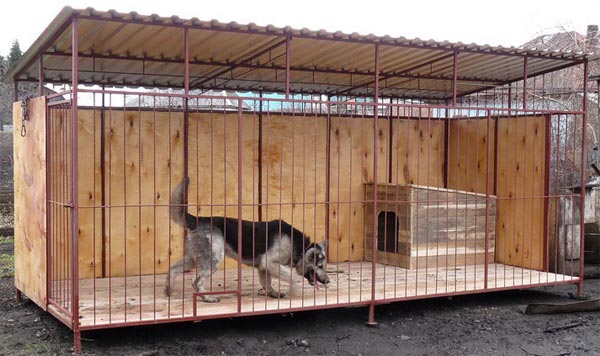 Дверь должна открываться внутрь. Так и собаку проще контролировать, чтобы не выскользнула. И для вас безопасней. Собака в порыве радости может распахнуть дверь вместе с вами.
     Задвижка с надёжной фиксацией. Я сам видел, как алабай открыл вполне приличную, на первый взгляд, задвижку. При этом алабай был внутри вольера, а задвижка снаружи. Цирк, да и только.
     Кровля любая. Главное учесть снеговую нагрузку, чтобы мокрый снег не продавил её. Уклон лучше к тылу (односкатная кровля) или в стороны (двускатная кровля). Если односкатная к фасаду или вальмовая (четырёхскатная), то обязательно с желобом вдоль решётки и водостоком.
     Размеры вольера по площади. Вольер лучше делать вытянутым в длину. Собаке нужно место для движения. Особенно в ограниченном пространстве. В таком вольере ей будет комфортней.
     Поэтому: глубина вольера два метра - необходимо и достаточно. Этот стандарт прописан в нормах содержания собак во многих европейских странах. А вот длинна – сколько позволит фантазия и возможности.
     Высота вольера такая чтобы внутрь можно было свободно войти, не задевая головой обрешётку кровли.
     И на последок.
     Между вольером и соседней постройкой (домом, забором и т.д.) оставьте хотя бы полметра. Тогда там можно будет убираться. Если прижать вплотную, то туда будут забиваться листва, снег, принесённый ветром мусор.
     Не ставьте вольер в местах, где возможен сход снега с крыши соседних строений. Даже если есть снегозадержание и прочие технические штуки. Их бывает и срывает. Представляете, как по крыше вольера грохнет? И что хуже всего - неожиданно. Шок собаке обеспечен. Потом собаку в этот вольер заманить будет проблемно.
     Ну а остальное известно. Фасадом на юг, юго-восток или юго-запад … в сухом месте… на возвышенности… для тени рядом кусты или деревья.
     Есть ещё две немаловажные темы. Обустройство открытого выгула и организация всей территории с учётом поведения собаки. Но об этом, может быть, позже.
          Успехов.
При полном или частичном копировании ссылка на источник обязательна.
| | | | | | |
| --- | --- | --- | --- | --- | --- |
| | | | | | (Голосов: 30, Рейтинг: 4.4) |
---
Social Status Aiming To Raise $100,000 Donation For Hurricane Relief With adidas NMD/Yeezy Raffle.Social Status continues its #SocialWork initiative with a lofty $100,000 goal in donations to benefit

Yeezy Boost 500

the victims of the devastating hurricanes across the U.S. and in Puerto Rico. To raise these funds, Social Status has partnered with adidas to raffle off five

Cheap Yeezys

pairs of the Pharrell x adidas NMD Human Race in yellow and one pair of the Yeezy Boost 350 "Oxford Tan" in two separate giveaway opportunities. Six

Adidas Ultra Boost 4.0

winners will be chosen after the raffle concludes on Wednesday, October 18th, 2017.To enter the giveaway and give to much-needed cause, purchase a $10 raffle ticket to

Adidas NMD R2

enter one of the two giveaways. There is no limit to how many raffle entries you can submit. All the proceeds from this raffle will benefit a

Yeezy Boost 350 V2 Kids

worthy cause that supports the relief efforts. Enter the raffle here.

Does Kanye West Have Plans Of Releasing "Red October" Yeezys Again?Kanye West's magnus opus of sneakers

Adidas Ultra Boost 3.0

is the Air Yeezy 2 "Red October", his final collaborative release with Nike. It was the perfect way to bow out and move on to different pastures,

New Yeezy Boost

as the official drop happened on a random Sunday afternoon just months after it was announced that the fashion/culture icon would be joining forces with rival brand

Yeezy Wave Runner 700

adidas. While we're far from any sort of confirmation, there's a chance that Kanye West is looking to revive the "Red October Yeezy", but in a new

Adidas Yeezy Boost 350

iteration with adidas; TMZ reports that West recently re-filed for the "Red October" trademark, which suggests he's looking to use it for a future venture – whether

Yeezy Boost 350 V2

it be in apparel, footwear, or music. Kanye originally filed for the trademark in 2013, but didn't finish the necessary paperwork.As Kanye West's Yeezy line continues to

Yeezy 500

be among the most celebrated products put out by adidas, a "Red October" release on any level will certainly re-inject some energy into the sub-brand that he

Kids Yeezy Shoes

created under the German brand's umbrella. While YEEZY footwear continues to sell out

Harden Vol.2

in increasingly higher production numbers, his apparel line, which just launched its sixth overall season with a viral campaign that featured wife Kim and some dopplegangers, hasn't quite achieved the same level of success.

EA#pyright">Copyright © 2014. Все права защищены.